'Killer' Halloween Party Ideas...
Looking for some great Halloween party ideas? A good Halloween party is one
that is fun and remembered for some time.
What are the required ingredients for a successful Halloween party? There are many, but the two most important are
food and games
. Apart from food and games, there are some others to consider like who to invite and how many. Too many people can ruin a party as can too few. Pick just the right number of people for the space that you have. Also pick people who know and like each other and get along well. This always makes for a fun time as these people are already comfortable with each other. Your Halloween party ideas will be of little value if you have too many people, or too few.
Halloween party ideas...this is important: The level of scariness. Pick just the right level for the audience. If young kids are your invitees, stay away from too much realism which can really scare them. Go for something more palatable.
On the other hand, if we're talking about teenagers or adults then
really scary is good.
Hiding behind drapes or doors and jumping out at people as they walk by or tossing fake spiders around the room is all good scary fun.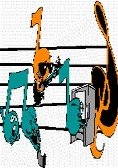 Music is often a great way to create an atmosphere or ambience. Songs like Monster Mash, Love Potion Number Nine, I Put A Spell On You are favourites for all ages. Soundtracks from Ghostbusters, The Addams Family and Nightmare Before Christmas are also appropriate. John Carpenter released an album called Halloween which is great.

Now for the food and drinks. There are many great kinds of food for a Halloween party. Here are some examples...
First, for the drinks most people love fruit punch. To make it exciting, you can add in some spiced apple cider. To make the punch spooky, you could use blood red food coloring to make bloody ice cubes to put into the punch bowl.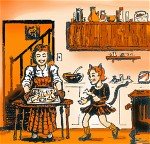 If you can get hold of spooky ice trays, you could make ice into the shapes of spiders or ghosts. You could also improvise by using plastic or rubber food handling gloves to freeze the red colored water into the shape of hands. Imagine dipping into the punch bowl and coming up with a disfigured (due to melting) red hand! Scream! If you really want to go overboard, then some plastic spiders in the punch would be a good laugh. When it come to food and drinks you can come up with all kinds of Halloween party ideas.

If you can find a large enough pumpkin, this could be the punch bowl instead.
It is interesting to note that in the 1992 Guinness Book of World Records, a pumpkin weighing 827 lbs. was grown in Washington State by a man named Joel Holland. Its circumference measured 14 feet! Now that would hold a lot of punch.
For the food part, usually light snacks and finger (pardon the pun) food go down better at Halloween parties. Cookies are great. You can make them in all sorts of shapes. You could use white chocolate bits in chocolate cookies to resemble broken bones. Call it
"Bone Chip Cookies".
Now that is a great Halloween party idea.
For added effect, the plate you serve it on could have a skeleton hand. You could even use red paint on the plate to look like blood drops.

Please ensure through that the paint is completely dry to avoid food poisoning. Using popcorn, puffed rice cereal and marshmallows, you could make "Sweet Ghosties". The main part of the recipe is to melt the marshmallows on low heat with butter until it becomes sticky. Then form ghost shapes using this mixture with a mixture of popcorn and the puffed rice cereal. You can use chocolate morsels or gum drops for the eyes, nose and mouth.


Cupcakes or muffins are also a good choice for a Halloween party. You could use orange colored icing sugar put on the top in stripes from top to bottom to make it look like a pumpkin. Add on eyes, nose and mouth using chocolate icing. "Mice" is an old favourite among the younger children. Use hard boiled eggs, olives and radishes for the eyes and ears. Using radishes and pimento stuffed olives, you could make your own eyeballs.

At the food table, you could put pieces of meat like livers and gizzards into pickle jars and fill them with colored water and label them with strange names like "Lizards Tongue" or "Ghost Spleen". Those are pretty scary Halloween party ideas!


Final Halloween Party Ideas To Consider...


For something simple, you could just have a fruit platter. To make it interesting, you could again use red food coloring to make it look like there are drops of blood on the fruit. You can get interesting sweets from some candy stores that look like eyeballs or other body parts or even insects. These can be placed in the serving dishes close to where people will be picking up food with their fingers. They might just brush up against one of these and get a fright. I hope some of the ideas presented here may help you with your Halloween Party Ideas or may spur you on to create your own.

Either way, I wish you every success in organizing your next Halloween Party.
Here you will find more creative Halloween party ideas.
Related Articles:
© 2004-2006 www.Craft-Ideas-Guide.com