Find Scary Halloween Decorating Ideas Below!
Looking for some great Halloween decorating ideas? A good Halloween party is one that is fun and remembered for some time. The decorations are critical.

Halloween decorating can be broken down into decorating outside the house and inside the house. Outside covers the yard, garden and the porch or house entrance.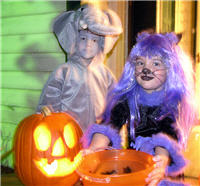 Inside of course refers to anything inside the home. One of the key things to consider in coming up with Halloween decorating ideas is lighting. For one night only consider replacing all the light bulbs with dimmer and colored bulbs. This will create a spooky ambiance. And it will help you come up with more Halloween decorating ideas as well...
Take some light bulbs out of their sockets completely if you want that area dark. If someone flicks the switch, it will not spoil your ambiance.

You can use plastic spiders for a good Halloween effect by placing them in strategic locations like inside a lamp shade creating a shadow. You can also put spiders under toilet seats just enough to be barely visible.

On the subject of Halloween decorating ideas and using light, you could also use candles. If you are using a candle in place of a light bulb, ensure that there is a tray to catch the wax flowing down to prevent problems when reinserting the bulb. If you have fluorescent light bulbs, replace them with black light also known as ultraviolet light. This light is invisible, hence the name black light, and will illuminate only things that are white or that have white in them. Keep reading for more Halloween decorating ideas...
Halloween decorating ideas Part 2...
When decorating consider the standard Halloween colors. Traditionally it has always been black and orange but the purple and green combination is also very nice. You could use all four or create your own color combination's.

Hanging black thread or fake spider webs from the ceiling makes for good effect especially if they are wet, giving people who rub up against them a creepy feeling. Remember that if the lighting is dim, these will not usually be visible.

Change your doorbell sound to something spooky or unusual. These are available from party shops especially those specializing in Halloween.

Get one of those witches cauldrons made of plastic and put it in water and dry ice to create a spooky potion. If someone dressed like a witch is stirring, it adds to the effect. Be careful not to handle dry ice with bare hands as it burns your skin.

If you have porch steps or a walkway leading up to your house, you can light it up with Jack O'Lanterns. Instead of a candle, you can put in colored glow sticks for that special effect. Don't forget to decorate yourself as well. Spiders creeping out from shirt pockets or hanging on your back are great for laughs or frights depending how someone comes across it.

For ladies and girls, you can paint your nails in black with red droplets of blood or with little spiders or a ghost face on each nail. While you're at it, do not forget your beloved pets. Lots of cool costumes are available for pets at the Halloween stores or make your own. Be sure that the pet is comfortable or they will find a way to get rid of it.

Cobwebs can create a dramatic effect in your home. You can purchase inexpensive bags of webs from your local Halloween store. Attach one end and pull them out to create a web. Or you could use a rope type spider web where you can attach a giant spider. Putting a strobe or flickering light behind it will make it seem like the spider is moving. When using strobe lights take all necessary precautions as they can lead to some serious health side-effects in some people. Ask the store for all the pertinent details when renting or purchasing one.


Artificial ravens and crows which are available from most art and craft stores can be put in strategic places like trees or bushes or even on the TV top. Set them up so that they stare at your guests. If you create some fake tombstones in your garden, a raven or crow perched on top of it will add to the spooky effect. Ensure the area is dark with just enough light for the birds to be spotted.
More Halloween decorating ideas you have to try just below...

Halloween decorating ideas Part 3...


A must for this article on Halloween decorating ideas is MUSIC! Music adds to the ambience of your Halloween party. Although it's not really a part of an actuall Halloween decorating idea, you must consider what kind of music to play so that your guests will get into the kind of mood that you want them to be in. Pre-select all the music so that you will not waste time fumbling in the dark trying to change CDs. If you have a computer that can burn CDs, you could literally put on hundreds of mp3 tracks onto a CD that will play all night. If your CD player does not play mp3 tracks, your computer definitely will.

Food can also be decorated. Spiders or fake body parts like fingers in the bowl of chips or punch could make for a scary moment. Use food coloring to create special effects like orange colored bread or purple and green cookies!

Let's not regret our next Halloween party. Please remember to remove any breakable items of furniture or decorations and place them out of sight to avoid them being broken or damaged, which happens more often than not in dimly lit conditions.

Do have fun while decorating as it will make your party a definite success. When you are having fun doing something, you usually do a great job. Happy Halloween decorating!

Here you will find more Halloween decorating ideas for your halloween party.

Halloween decorating ideas are fun to come up with. Let us know what Halloween decorating tips and Halloween decorating ideas you have and we can share them with our newsletter subscribers.
Try Arts And Crafts Secrets is a quality crafts newsletterand it's FREE!
Related Articles:
Copyright Craft Ideas Guide All Rights Reserved.