Sell Handmade Crafts Fast!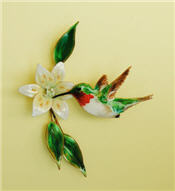 In the article will discuss how to sell handmade crafts, including unique ideas and resources on where to sell them.
Crafting is a popular pastime that covers a vast number of different pursuits. Traditional crafts such as glass blowing, basketry and cloth weaving have had a boost in the UK and Australia following on from popular TV crafting shows. Other popular crafts include beaded jewelry making, card making, sewing, knitting and crocheting. Fine arts such as pottery and painting increasingly find a place alongside crafting.
For many people, the decision to sell handmade crafts is a financial one. You may simply wish to finance your hobby, or you may be looking for a business opportunity following on from some tough times. There are a number of opportunities nowadays and you may like to use one, several or all of them to sell what you have made.
Word of mouth selling - Family and friends can be fantastic marketers for your craft products. Give your mum, aunt or sister a scarf you made, and chances are they'll be out there bragging about it every chance they get. Give a bit of encouragement to a supportive friend or family member and they'll be showing off what you've made and pulling in the sales for you faster than you'd ever imagined possible!
Craft fairs - This option to sell handmade crafts has been around for a long time. Get your sales right and you could find the sky is the limit. Craft fairs are a great chance to sell handmade crafts, hand out details of your products and could even be an opportunity to find some wholesale sellers who would like to see more of your work. While this option can have drawbacks if you are purely a hobbyist (cost, need plenty of stock ready to go), the opportunities are plentiful if you're really serious about building a craft business of your own.
Selling online - Setting up 'shop' and making sales online is perhaps one of the easiest options if you want to sell handmade crafts. Sites such as Etsy, DaWanda, Folksy (UK) or madeit.com.au (Australia) make it super simple to sell online. It can take a matter of minutes to register as a seller, and you'll be amazed at just how quickly you could have your first sale. The beauty of selling on a craft site is that you don't need the same quantity of stock as you would for a craft fair, making it much easier to get started. You'll also be able to list at any time and the cost per listing is minimal.
Social marketing
Blogging can be one of the most interesting ways to spread the word about what you do as a crafter. Writing about your ideas, sharing pictures of your crafts in progress and putting a bit of your personality out there can draw in a great many followers and give you fantastic base on which to build your craft sales. As you start to connect with other crafters, you'll get feedback and support from people who share your passion for crafting and you'll find more opportunities to sell your handmade crafts both on and offline.
With a bit of know-how, you'll be able to sell handmade crafts in a variety of ways to help expand your craft interests. For some people, the love of crafting can end up being a full-time business as they sell their crafts online, through craft fairs and via word of mouth. One of the best things about selling crafts is that you will be in control and able to develop your own ideas and share your passion for crafting.
Related Articles:
Related Articles: