A way with the threads: Hand embroidery designs...
A few words about hand embroidery designs...
Art enlivens the surrounding.
Every form of art, in some way or the other, is directed towards beautification of man's life. Embroidery - the art of creating intricate patterns with thread and needle also caters to this basic need. Hand designs adorn and enliven the fabrics of clothing and linen.
The origin of hand embroidery designs...
The origin of embroidery dates back to as early as 3000 B.C. when the earliest known fabric was embellished by some sort of handwork by man. Though currently attributed to women, originally the task of embroidery was relegated to men, in both eastern and western cultures. One had to go through eight years of apprenticeship to become the master of this craft. In the west, the art of hand embroidery reached its' pinnacle during the 17th and 18th century.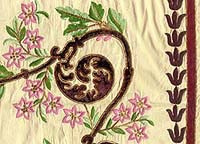 During the middle of the 18th century, this industry however faced a major setback with the invention of embroidery machines. From then on, different areas of the globe devised their own particular style and went on to specialize in it.
The distinct form in distinct places
Various forms of hand embroidery designs emerged in various parts of the world. Italy devised the richly detailed cutwork called Rticella whereas, the peasants in the Slavic countries Ukraine, Poland, Czechoslovakia and Yugoslavia created elaborate embroidery with darned and satin stitched patterns on brightly colored wedding dresses. The art of woolen embroidery, crewel, emerged in Western Europe, which also specialized in White embroidery i.e. intricate embroidery with white thread on white ground. The heavily padded motifs and open work fillings of one of the most acclaimed art of Ayrshire needlework, came from Scotland with its' root in France. White work a combination of embroidery and lace is said to have originated from Broderie Anglaise, another pattern of the same art, practiced in England. India also practiced this white work referred to as chikan and quite specialized in it. In China, both sided embroidery prevailed. Apart from "Flat work", "Raised embroidery" known as Elizabethan embroidery also made its own place. Three dimensional elements are fashioned on the wire with the help of thread in order to make the motif stand out from the background. Another pattern, known as ecclesiastical embroidery, was widely used to adorn many religious organizations as well as royal courts.

These were gorgeous and often included gold threads.

Various embroidery designs: At a glance
Needle point designs: These designs like cross-stitch are worked on canvas, preferably, interlock canvas. The stitches are counted and ascend in complexity from the tent stitch. The tent stitch is nothing but a ½ cross stitch. However, it may be mentioned here that cross-stitch in particular, is best to create hard wearing items like purse.
Hand embroidery designs: Hand embroidery includes various popular stitches like Chain stitch, run, Lazy daisy, French knots and so on. When combined with modern fabrics, Bondaweb, transfer foil, a whole new dimension is added.
Machine embroidery designs: Free motion machine embroidery is the most popular choice of the modern world, as it requires much less time than other methods. Free motion machine embroidery uses the sewing machine with the help of which beautiful designs are created on the fabrics.
So, get into the world of hand embroidery designs and let it make your surrounding livelier and aesthetic.
Related Articles:
©2005-2006 www.Craft-Ideas-Guide.com