Tips On Graduation Crafts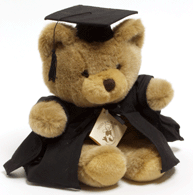 Graduation crafts are all about making caps and pins. One nice idea is to throw a post-graduation party where everyone is wearing graduation caps (even the toddlers) and the centerpiece of the dinner party is also a graduation cap.

If you go to www.about.com and type graduation crafts into their search engine you will find all kinds of templates and directions for creating imitation graduation caps out of cardboard. They even have a pattern that shows you how to make a miniature graduation cap for a beanie bag toy.
Ambitious types who are skilled at beading might want to make the new graduate a bead broach created out of safety pins. There is an excellent template at www.about.com in the "parenting teens' section that shows you how to bead a likeness of a person wearing a graduation cap. All this project requires is two safety pins and three different colors of small seed beads. Beaded graduation crafts are very popular right now and this kind of home crafted gift is something that the graduate can treasure forever as a memento of the special day.
Creative graduation crafts can be constructed to enhance a post-graduation party. One great idea is to make invitations that look like little rolled up diplomas. White t-shirts make great party favors. All you have to do is provide each guest with a white T-shirt and permanent marker so the guests can sign each other's T-shirts.
Another good idea for a graduation craft involves "scrap booking." This is a great gift idea for relatives or friends on a budget who still want to present the graduate with some kind of heartfelt and thoughtful present. Put together a notebook of hints on surviving in the adult world. Collect articles from magazines about such subjects as budgeting, doing laundry, homesickness and human relations (especially dealing with bad roommates!) from books and magazines and collect them in a book for the graduate. You can decorate the cover of the binder or book with ribbons, photographs, drawings and messages from well wishers.
As the new graduate is likely to receive many photos of family and friends during the celebration an ideal graduation craft is a decorated picture frame. You can buy a simple wood frame very cheaply at Wal-Mart or a crafts supply outlet and then decorate it with objects that relate to the graduate's favorite occupations or hobbies. For instance, if the graduate like to go to the beach, you can adhere sand to the frame using a coating of glue and then also glue such beach-faring items as seashells and horsefish to the perimeters of the frame.
Embroidery is also suited to graduation caps, especially if you are thinking of embroidering words of wisdom on the graduate's favorite pillow or T-shirt. Old Irish toasts and phrases that wish the graduate well are great inspiration for these kinds of embroidery projects.
Of course you can create your own graduation crafts using any medium that you wish. Graduation scenes, lucky symbols and well-known verses can be woven into tapestry, quilted, constructed out of wood, painted and sewn onto fabric. To find the graduation crafts that are best suited to your talents try typing the words graduation crafts into a popular search engine such as Yahoo or Google.
Related Articles:
Search About.com for graduation crafts.
My newsletter, Arts And Crafts Secrets! it's an email newsletter that you will enjoy. It has all kinds of FREE arts and crafts ideas and money-saving suggestions.
© 2004-2006 www.Craft-Ideas-Guide.com